Hi there! My name is Lara and I'll be your columnist for all things food around the city. I may be new to the city having only moved to Manhattan in October, but it did not take long for me to discover that New York is truly like no other when it comes to food. I've been writing reviews of restaurants for some time, and am excited to have this opportunity to share my experiences with you here.
Sadly, many think it takes a lot of money to dine out in New York. While you can definitely opt for excellent-but-pricey restaurants helmed by famous chefs, you can also find great food at fabulous prices if you just know where to go. Lucky for you, I'm here to help point you in the right direction. Whether it's a recommendation for date night or a place to visit when warm-weather visitors start to arrive, I'll be able to help you find a restaurant for every occasion.
You will see all types of restaurants on here, as I love variety. Just one warning: I'm from the Deep South, so I like my tea sweet and bread options plentiful. I also have a ridiculous sweet tooth, so there's likely to be frequent mention of desserts and brunches. To me, brunch is a NYC staple on par with pizza, and as such, is going to get some serious column time.
I look forward to interacting with you, as I'm hoping you guys will feel free to comment lots along the way. Also, feel free to drop me a line at lj [at] citygrits dot com.
Now that that's all out in the open, let's dig in!
It was shortly before my actual move to the city that I was first introduced to one of my brunch favorites, Essex. I've coerced friends to leave the circumference of proximity to their Times Square hotels in favor of an excursion to the Lower East Side.
The interior is nothing fancy, but the atmosphere as well as the patrons seem to capture the fun and eclectic essence that is the Lower East Side. There are the certainties: the hostess will be surly, the restaurant will be packed, and you're guaranteed a long wait if you don't make reservations. After you are seated though, rest assured that service is typically prompt. Brunch is $16 (including three mimosas). Note that the three-mimosas-included-per-customer rule is not enforced, with the key element being taking your time in completing your meal. You will need to be sure however to hit the ATM prior to your visit, as brunch is cash only.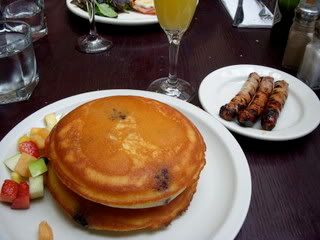 The pancakes, coming either in the blueberry or chocolate banana variety, are the fluffiest in NYC to ever decorate my fork. Their manchego macaroni and cheese is excellent, and the side of chicken and apple sausage pais well with the somewhat sharp edge of the manchego. While I'm not an omelet connoisseur in any regard (as I don't care for eggs), I will say those I've dined with over the months have had nothing but the best to say of their egg offerings – especially of the Mexican Matzo Brei. And even though you might catch me complaining about the crowds, Essex is a favorite of mine I come back to time after time (after time).
That's it for me this week, but if there's a food establishment (be it restaurant or street cart) that you think I should know about, please email me at tips [at] neighborbeeblog dot com.